Tshimong ya Meroho Le Naledi* – written in Sotho – is a children's book set in a vegetable garden and teaches principles of self-sufficiency, oneness with all of creation, and love for self, the environment, and all of humanity. The book was the inspiration for establishing Naledi Farm, an agritourism destination located on a three-hectare agricultural smallholding in Gauteng province, South Africa. The smallholding is situated at the foot of the Crocodile River Reserve, proclaimed in 2019 as a Protected Area, and allows the Farm to contribute to conserving the environment while showcasing the nourishing and healing benefits from sustainably cultivating the land for food.
AgriLuxe Marketing sat down with the Managing Director of Naledi Farm, Manti Maifadi, to learn more about this regenerative tourist attraction.
What is the significance of the name Naledi?
Naledi is a Sotho name that means star. We chose the name for our venture to pay homage to our shining star, which continues to lead the way for us and continues to position us as a brand in the hearts of people who visit our space. Naledi is also the name of our youngest child. 
Who are the visionaries behind the Farm and what motivates you?
I run the farm with my husband, Samuel Maifadi. We were driven by a hunger for purpose, a yearning to bring people together, and a call to provide a space for teaching and healing. We provide visitors, who live in the city the opportunity to interact and connect with nature and to have an amazing educational experience. Particularly for children, our future, we provide an opportunity for them to link what they learn in school – concepts such as photosynthesis – with hands-on experience on the Farm. We basically created a physical space to realize the principles of Tshimong ya Meroho Le Naledi.
Agritourism as a business model is not yet common in Africa. It's quite impressive what you have started. Congratulations on being a pioneer. What role do you see for agritourism in strengthening the agriculture sector and in contributing to South Africa's socio-economic development objectives?
Thank you. For us, agritourism is a means of educating individuals on sustainable agriculture. Growing food is sacred; it determines our very existence. So it is important not to abdicate this responsibility to an external force. Covid-19 has helped to drive home this point. Further, agritourism provides opportunities for additional income generation for farmers. But to be sustainable, farming practices and activities promoted on the farm must be regenerative. In this way, there will be win-win outcomes for the social, economic, and environmental well-being of individuals and their society as a whole. For example, at Naledi, we offer a range of agri-products and services.
We provide vegetable gardening classes, school excursions, kids holiday camps, and kids day workshops under our Naledi Farm Kids package. We believe that if we instill in children kindness and respect for nature, healthy eating habits, a love for using their hands, they themselves will be nurturing, responsible, innovative, and confidant individuals in society. We also host African-centered, family-oriented camps, and retreats that offer learning, restoration, and an opportunity to rekindle a love for nature. Then there is The Market@Naledi Farm, where we partner with other urban farmers, gardeners, artists, and craftspeople, who set up stalls once a month to showcase their work. The aim is to encourage people to support the local economy, to eat locally, and to eat what is in season. Another of our services is the Naledi Farm School that provides short-term classes to aspiring gardeners, landowners, farmers, and lovers of nature. We also offer garden-to-table cooking demos, Sunday lunches, and food garden design, set-up, and maintenance.
The Harvest Table

is your flagship project. Tell us more about it.
The Harvest Table is a series of monthly gatherings on the farm to celebrate our successful reaping seasons. Prepared from the bounties of our garden, we share lunch around the Table. We also invite guest speakers to share a skill or knowledge, based on their work. It's a time of great conversation and laughter surrounded by the most breathtaking view of our valley and the Schurweburg mountain range. Everyone leaves the Table a little fuller, in every sense of the word. When we are full, when our cups overflow, we can and should empower others.
What do you want as your/Naledi Farm's legacy?
Our vision is to awaken in some and reawaken in others awareness of the sacredness and healing powers of growing and eating sustainably produced food. We have chosen an agritourism business model to help achieve this vision through experiential learning. We also plan to help contribute to learning in more formal educational settings. So we are happy that our first book, Tshimong ya Meroho Le Naledi, which embodies our vision, received excellent reviews from the Department of Education, was recommended as additional learning material in the school curriculum, and is now being translated into other African languages. Finally, the children are our future. As I mentioned earlier, Naledi is also the name of our youngest child. We are nurturing him along with his two siblings, Lesego and Lesedi, to be the legacy holders of the Naledi Farm vision. 
We are grateful for the teachers and students who have graced our shores. We are grateful for the circle of healing that has opened and for the friendships we have made. May we continue to nurture each other's efforts and respond to each other's calls because our roots go deep, our connectedness even deeper, re bana ba thari**.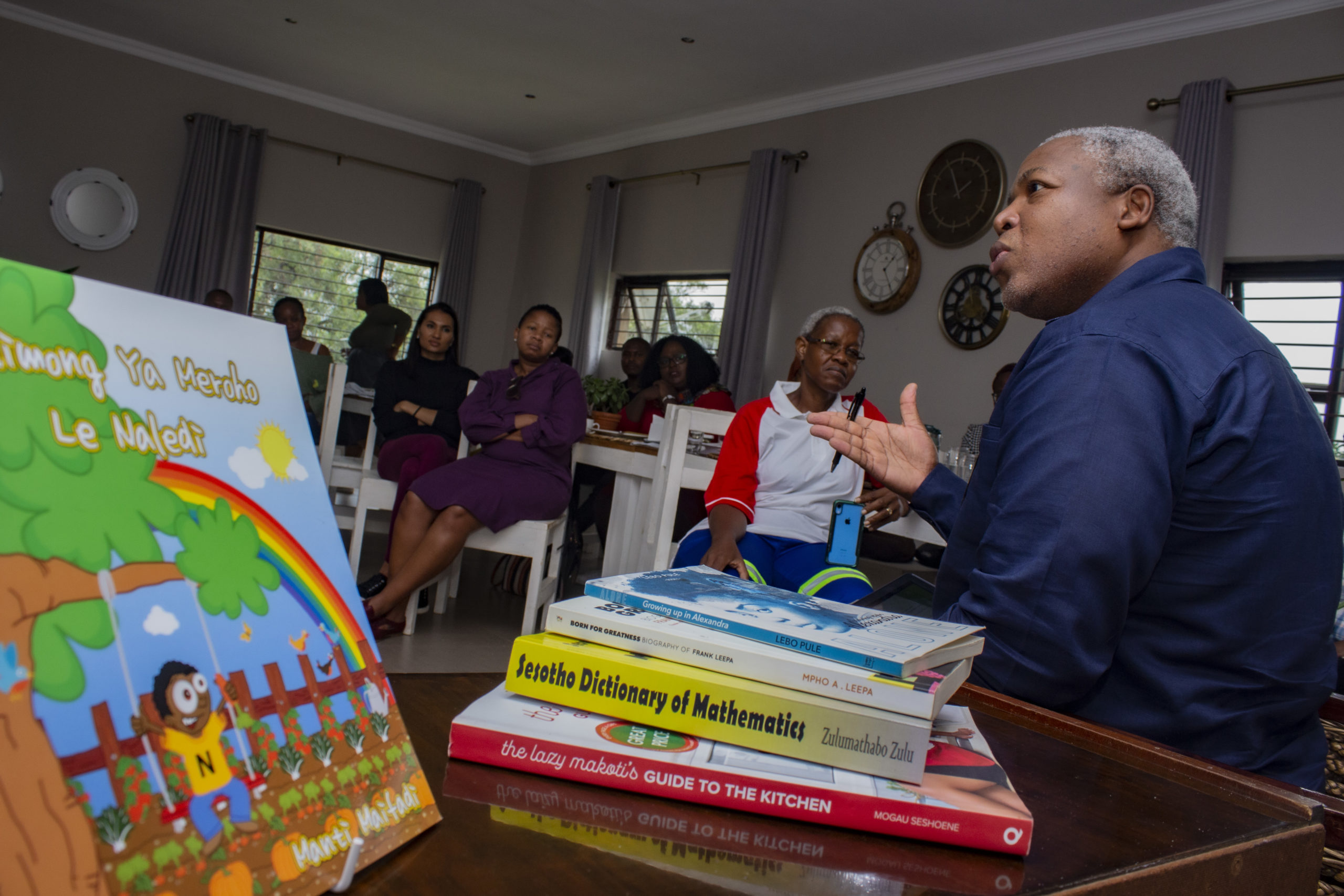 Note: *The title of the book is Sotho for "In the vegetable garden with Naledi."  Sotho is a language of the Sotho-Tswana communities living in southern Africa and one of South Africa's 11 official languages.
** We are from the same mother
Photo credit: Naledi Farm
To learn more about Naledi Farm or to book an activity, visit www.naledifarm.co.za